Get the scoop on digital marketing trends of 2022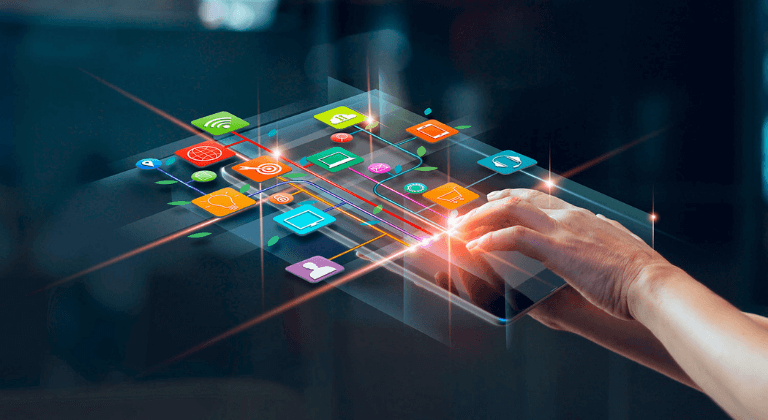 A new year is coming and with it comes the new digital marketing trends of 2022 and it is essential that you know them. Keep in mind that this scoop will be of great help, since you can go thinking and working on the next strategy for your business .
It is important to remember that the world took a huge turn after the pandemic. This caused companies and brands to be forced to restructure their marketing strategies. They had to adapt to the demands of the moment, in which digital channels were undoubtedly the protagonists.
The Internet and new technologies were essential elements to connect people and reactivate businesses. Consider that these two will continue to be fundamental, so it is necessary that you have clear and defined the digital marketing trends of 2022. So that you can continue with your business.
Unveil 2022 Digital Marketing Trends
Being up-to-date is key so that you can be successful when planning the strategies that you are going to apply. For this reason, it is so important that you already know all the digital marketing trends of 2022 with which you should work:
1.- Artificial intelligence
It is true that artificial intelligence (AI) is not something new, but it is increasingly used and 2022 will be much more popular. The different market sectors found a great ally in this technology, mostly used in marketing automation.
And is that AI gives you the ability to automate basic tasks such as reporting website traffic . Also recommend keywords that help you optimize the organic search results of your business.
It also helps you understand what customers are likely to buy in the future. This based on previous purchases and your browsing history. You just have to incorporate artificial intelligence in combination with SEO and other digital marketing strategies, and you will see the results.
2.- Virtual assistants or chatbots
One of the advances that AI offers are virtual assistants or chatbots . Although it will be part of the digital marketing trends of 2022, it is not new, as many companies use them to automate customer service. They do this through social networks, email marketing and other online platforms.
There are many advantages that chatbots can offer you if you use them in the right way, for example:
They can help you answer consumer questions without company intervention.
Thanks to AI, virtual assistants have a different personality, this animates the customer experience.
Increase interactions with customers, as you can provide a personalized and enjoyable experience.
This service makes the client feel listened to and cared for, in addition to satisfying their expectations quickly and effectively.
3.- Virtual and augmented reality
Another one of the digital marketing trends of 2022 that will be seen a lot is virtual and augmented reality . They give you the possibility to provide an immersive experience that is related to deep and internal feelings of the consumer. It is a way for brands to get closer to their customers.
Everything is aimed at offering more intense, personalized and meaningful experiences for people. A good example is facility tours through the creation of interactive 3D products . So that consumers can examine them carefully before making a purchase decision.
4.- Voice search
Continuing with the technology trend is voice search, this has brought with it virtual voice assistants such as Siri, Cortana, Google Home or Alexa. And the use of these is expected to increase exponentially in the years to come.
In fact, Juniper Research's Voice Assistant Market: Player Strategies, Monetization & Market Size 2020-2024 study indicated: by 2025 the number of voice assistive devices in the world will reach 13.5 billion. This shows that it is a growing trend.
Therefore, it is important that you consider integrating these tools into future actions. There are many possibilities that this offers you to connect with your audience, for example with formats such as audios or podcasts.
Also keep in mind that the content of your website must be optimized to be visible to these voice searches . So you can continue to attract traffic, using a more conversational and direct language that aligns with the queries made by users.
5.- Alternatives to third-party cookies
Currently, users demand greater protection when it comes to privacy and control over their data. Given this, Google announced its plan to phase out the use of third-party cookies . In principle, this would begin to apply in 2022, however, it has delayed it to 2023.
But it is important that you start thinking about this reality as one of the digital marketing trends of 2022. It is about considering a world where you do not have to depend on third parties to build your own audience and segment it.
It is recommended that you invest in the collection of first-hand data or first party cookies. In addition, in tools and strategies that give you the possibility to meet those people who are interested in your business and buy your products or services.
A good idea can be a CRM and marketing automation, since it will allow you to obtain real data and instantaneously of the behavior of your leads. As well as their preferences, tastes or needs, this in turn will help you offer them hyper personalized content.
You can also implement collection strategies through surveys or use tools such as Google's privacy sandbox or FLoC. Any of these alternatives will help you achieve personalization and consumer orientation without invading their privacy.
6.- Hyper personalization of the content
There is no doubt that content is the king of strategies, and that is why it is necessary that in the next year it is much more hyper personalized. Keep in mind that with the elimination of third party cookies, you are going to have to rethink the way you make ads. What will cause contextual marketing to regain its relevance.
This type of marketing is a clear and direct invitation for you to think in the context of your consumers. So this helps you provide products or services that are related to that context that interests them so much. This way you will position yourself in places that you consider relevant.
It is for this reason that both content and keywords remain fundamental elements of any digital strategy. But in the face of so much competition, the need arises for more real and personalized content. All information is relevant, from an email to a post on social networks.
So it is of the utmost importance that in 2022 you make a good investment in Content Marketing. But in addition, you also need to invest in the creatives behind it. Just remember to focus on hyper personalization to attract more users.
7.- Programmatic advertising
Among the digital marketing trends of 2022 is programmatic advertising. This involves the use of software to buy digital advertising , as well as machine learning, artificial intelligence. In addition to the algorithms to acquire advertising space on the Internet to target your target audience. 
How is the programmatic purchase done? Through real-time auctions where ads are purchased at the same time a visitor loads a website. This type of advertising is found in different digital channels including display, mobile devices, video advertising and Social Ads .
The program advertising is more efficient and faster, this helps you to higher conversions and lower customer acquisition costs. For this reason, it is so important that you take it into account in the year 2022 and include it in your strategies from the beginning.
8.- Sale on social networks
If something is true, it is that social networks are ideal to publicize products or services. For this reason, in 2022 sales through them will be enhanced much more, due to the integration of ecommerce within these digital platforms.
Instagram, Facebook and Pinterest are working harder every day to make it possible to purchase products from the same publications. Online store accounts tag items for followers to carry out the transaction, without the need to navigate outside of the app.
What is sought is to turn social networks not only into a communication channel, but also into a direct sales channel. Through which you have the possibility of increasing traffic to the website and product pages.
As you can see, the digital marketing trends of 2022 are closely related to new technologies. However, other more traditional and not so new ones will be seen, influencer marketing will continue, as well as user-generated content.
It's about knowing how to integrate and implement them, and at usdigitaldata we can help you create a perfect digital marketing strategy that will get your company off the ground next year . We have a variety of services that will help you develop your project. You just have to contact us to know everything we offer.